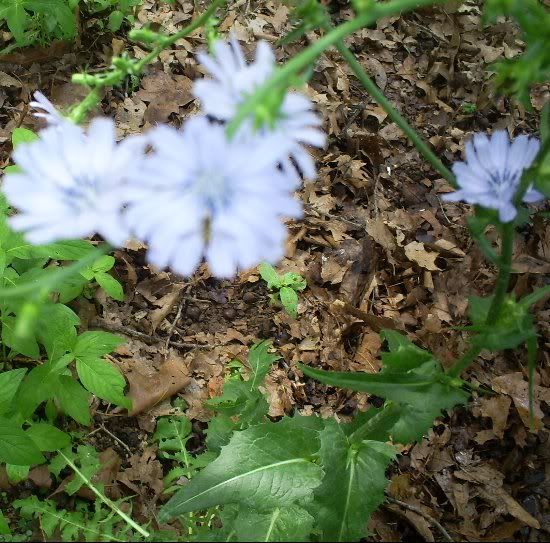 Chicory is a beautiful plant, tall and graceful, with wonderful bluish purple daisy-like flowers. The leaves are much like dandelion leaves and when young they're often mistaken for dandelions. Chicory frequently pops up among fields of Queen Anne's Lace and Black-eyed Susans, like jewels in a forgotten jewelry box.
Most people know Chicory as a substitute for coffee and tho it's slightly bitter and has no caffeine, a hot cup of roasted chicory root will wake you up in the mornings. It's best use that way however is to extend your coffee. You can dig the roots whenever you find them, clean well and roast in a low oven for about 4 hours, until they're dark brown inside. Then grind them and mix them with your coffee to make it go further.
But Chicory has many other uses as well.
The leaves, gathered before the stalk comes up, can be eaten as greens but are very bitter and best when added o other, milder tasting things. The flowers can be added fresh to salads, used to decorate other foods or make a tasty jelly. The spring root can also be baked and eaten, with a parsnip like taste.
Chicory is also used medicinally.
Internally, a tea made from the spring root and leaves can be used to calm an upset stomach or as a mild laxative. It's been used to treat the liver and jaundice.
Externally, A soothing eye compress can be made simply by soaking a cotton ball in the tea and applying to a closed eye. And the leaves can be bruised and applied directly to skin irritations to reduce swelling and has been useful in treating swollen joints cause by rheumatoid arthritis.
As with all things please use care and common sense when trying something new. Do research and investigate fully, never take one persons word as the final say. And always talk to your Care Provider first :)